flying ferret surfing stickers – Sunshine coast-gold coast qld
---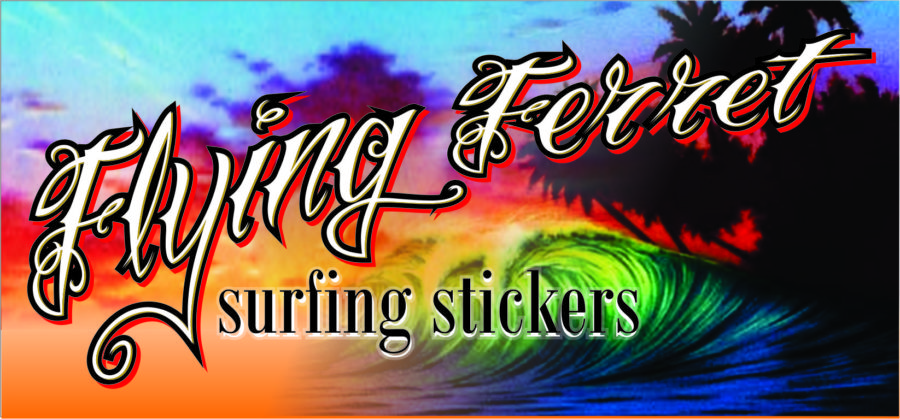 Flying Ferret Surf Stickers offers a unique opportunity for our clients to personalise their surfboards and keep up with the latest trends with ease. With over 27 years' experience and excellence in personalised service and quality products Linehouse Graphics is the parent company to Flying Ferret Surf Stickers.
FFSS's services include Dinger Kits and surfboard stickers of which are constructed using locally sourced high quality materials to ensure their longevity and vibrant colour for every season.
We have all experienced a nasty ding or two in our favourite board and accidents happen; with that in mind our team has designed the Dinger Kits. Made from high performance vinyls so it conforms to the damaged area of your board. It's not permanent, but it will get you back in the water as quick as you can say…Flying Ferret. To bring a little of your personality to the surf our Surfboard Stickers are a great product to express yourself and stand out from the crowd. FFSS has a wide range of surf stickers to choose from for all shapes and sizes with custom design an alternative option. All stickers are long lasting and easily removed without damage to your board.
What are you waiting for, order yours today and have it delivered straight to your door!
For more information on our products please contact our friendly team via
https://linehousegraphics.com.au/contact/  or Ph: 0412 217 488
Memphis Bell was created for a 7 ft bomber surfboard, big, heavy and slow turning. It fits it perfectly. Installed on the bottom of the board it sure makes an impact and a talking point. This print has been on this board for 10 years.
Order your memphis Bell today…
Flying Ferret Hibiscus…This board had the nose snapped off. After repairing it back on, this sticker covered the ugly bits. Printed on white vinyl with a stringer incorporated into the design, you would'nt know any different. There's no problem with waxing over the vinyls, it rubs on with ease.
Order your Flying Ferret Surfboard Stickers NOW:
https://linehousegraphics.com.au/contact/