Sunshine Coast Audi – Currimundi – Queensland
---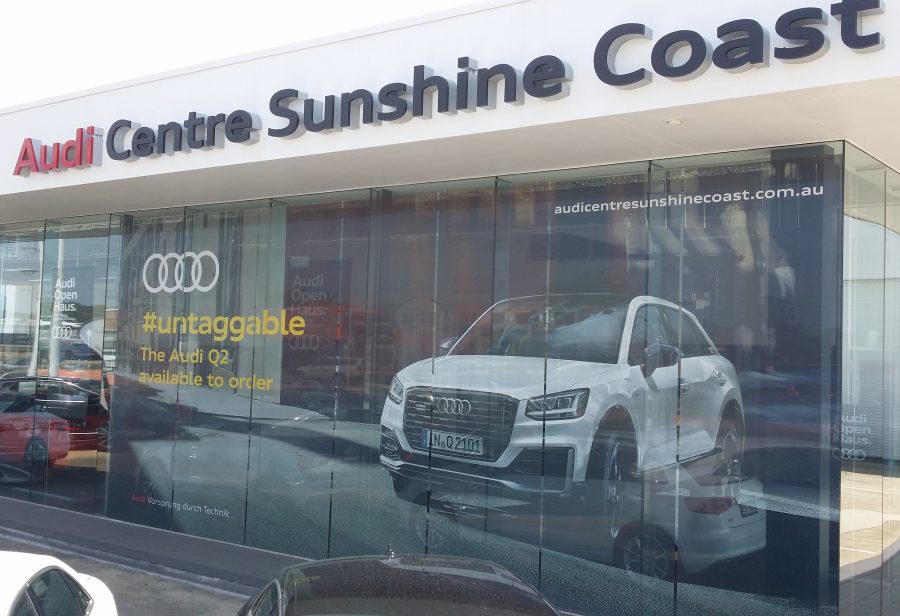 Linehouse Graphics…The One Way Vision Specialists.
One Way Vision is ideal for external use on office shopfronts or company vehicles windows for your advertising needs. You can create new innovative signage and fantastic design opportunities without obstructing office views. It allows full colour digital graphic designs printed on the outside and still allows viewing through a window from the inside as if there is nothing there.
Why not make use of One Way Vision to your office windows in your next advertisement campaign. See-through window advertisements and decorative designs maintain the view and allow the daylight in.
This One Way Vision shopfront window was a real thing of beauty to install. Karen Moya, Audis Marketing guru approached us to have this digital graphic installed the best way possible to their dealership situated on the main road of Caloundra Sunshine Coast in sunny Queensland. 4 meters high and with a length of 10 meters long took 3 hours to install and the end result speaks for itself. This is what we do best…quality signs, best prices and value for your advertising dollar. Next time you have a big event happening….Think Linehouse Graphics.